Who We Are
The 1st Battalion, 101st Cavalry is an M1 tank battalion, part of the 42nd Infantry Division (Mechanized), New York Army National Guard. We are the only tank battalion headquartered within New York City. Our companies are located throughout eastern New York, with A Company and Headquarters Company on Staten Island, B Company in Troy, C Company in Hoosick Falls, and D Company in Newburgh.
The soldiers who comprise the battalion come from all walks of life. Police officers, firefighters, businessmen, lawyers, electricians, students; the battalion is truly a cross section of society. Our common bond is the Army and the Cavalry, and we give up one weekend with our families each month in order to train for the missions that we may be called upon to execute.
Our Mission
"To close with and destroy enemy forces using fire, maneuver, and shock effect; or to repel his assault by fire and counterattack."
"Answering the 9-11 Call"
Armor Magazine article by MAJ Eric Durr
Current Events
14 August 2003 - Our first update in quite some time! Events have been moving very quickly in the CAV this summer...
First, we want to welcome our new battalion commander, MAJ (P) Eric Durr, who took command on 21 June, as well as saying farewell to LTC Costagliola as he heads up to the 42d Division as the new Division G3.
Next on our agenda is D Company's training out at Ft. Irwin, the Army's National Training Center, where they will be supporting a brigade of the 1st Infantry Division during intense force-on-force exercises.
As if that weren't enough - at the same time, C Company, A Company, and HHC will be at Ft. Knox for training at the Zussman Urban Combat site. It's going to be intense this year, as we refine the lessons learned from last year, and integrate infantry soldiers from the 1st Battalion, 69th Infantry who will be training with us.
And finally, we have a platoon from B Company who are heading overseas to Germany to train with U.S. units stationed there. They'll be acting as the opposing force, using all the skills they've been honing over the last year to give the troops stationed there some hard, realistic training.
As we said - life is busy this year! More to come...
24 March 2003 - Change 6 to the training schedule has been posted (changes are in green). Please take a look, and inform your soldiers - some drills have changed significantly!
21 March 2003 - Congratulations to our latest graduates of the Basic and Advanced Non-Commissioned Officer Courses!

BNCOC Graduates (left to right): SGT Frank Fernandez, SGT Thomas Davies, SGT William Simon, SGT Norman Martin, and SGT Howard Wulforst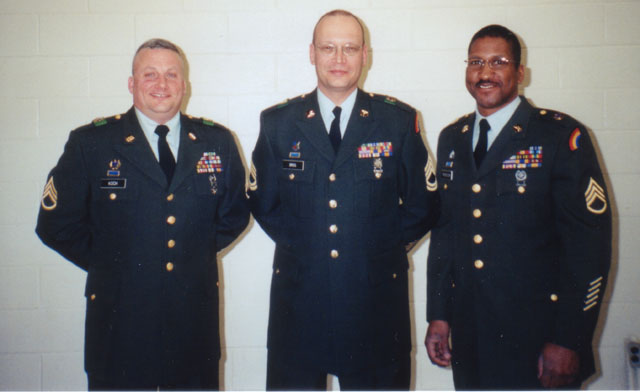 ANCOC Graduates (left to right): SSG John Koch, SFC Richard Bros, SSG Steven Penson
26 February 2003 - Take a look at the training calendar, we've had a change of dates on the Annual Training for soldiers going to Ft. Knox this summer. I know - too many changes! But real world events are driving the availability of training resources, so we take what we can get.
10 February 2003 - Mini-update today, but an important one. Change 4 to the Drill Schedule has been posted! Some significant changes for this spring, as well as adjustments on various AT dates, so take a look. (Changes are now highlighted in green, to make them easier to see.)
4 February 2003 - HHC Soldiers! Your W2 forms for 2002 are at the company, both state and Federal. Contact CPL Lent, 718-442-8499 ext 33, to get them! Leaders, get the word out to your soldiers!
To see previous entries from the current events file, click here.